I happened to be looking out the window this morning to this view, when I heard the news: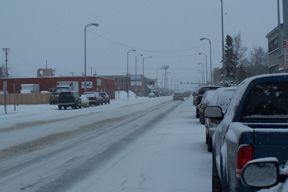 Sure looks like spring to me!
I was, in fact looking out my window when my RSS feed displayed the headline from "Nationals Journal": Sources: Nats Sign Adam Dunn.
So I immediately head over to NJ, and it was like a virtual blog party. Even the curmudgeons and naysayers were happy.
I was happy.
I don't know if Dunn is the right choice for the Nats or not. I am not a Major League GM. But the faithful feel better, and that makes a big difference.
I feel compelled to say "I told you so…" Even Boswell, in his chat today (before the announcement) was roasting the crow, in preparation for the feast. He said, "The Nats are going to look very smart __and I'mm [sic] be delighted to lash myself in the public square__ if they get Dunn at a great price. But I doubt it. I don't se(e) them being a "first mover" but more like a "too late reactor" in this situation."
If only I could be there for the lashing, because Bos will be laughing hysterically with every stroke.
This points out the danger of being an armchair GM. None of us have all the information. All we have is opinions. And while the faithful lost faith, the front office went about their work, first making a credible bid to Teixeira, and then acquiring Dunn. But in this web 2.0 world, our opinions carry some weight – not very much, but some. After all, I am just some guy with a blog, but hey, you're reading this, aren't you?
The real proof will come in August and September, when it is clear where the 2009 Nats are headed, and what the foundation looks like for 2010. But today, as our favorite team converges on Viera, more than a few of us have come to the realization that Stan Kasten and the Lerner Family and Jim Bowden have done exactly what they promised they would do. And they did it despite our whining and complaining, and not because of it. I think some of you owe them an apology – or at least, you should renew your season tickets.
Nine months of hand-wringing are over. And as the crocuses poke through the Earth in NatsTown… Let's play ball!